As an employer, one of your most immediate and top priorities in running your business is to hire the best possible employees to work for you.  Unfortunately, many people waste their talent by abusing drugs.  Even though they can be excellent employees, they often end up being poor workers, affecting not only themselves but the workplace as well.  Studies show that 70 percent of Americans who abuse drugs are employed, plaguing the nation's businesses and corporations and costing them $81 billion annually.
Unfortunately, a bad hire is not the only thing you need to worry about.  Workplace drug abuse can pose a huge liability to the company in terms of safety.  You won't want a worker with drug or alcohol problems operating vehicles, using tools, or heavy equipment.
Why You Should Drug Test Your Employees
Though some employees may associate drug testing with some privacy issues, one can't deny that it provides benefits for both employers and employees such as the following:
Drug testing can help employees deal with and even overcome drug problems
Following a company's drug and alcohol policy, appropriate actions can be taken towards specific employees, which doesn't necessarily mean immediate termination.  More considerate employers help their workers overcome their drug problems, giving them a second chance to rejoin the workforce and even become more productive in the workplace.  One study found that an employee who recovers from a substance abuse disorder can save a company more than $3,200 annually.
Drug testing can also decrease staffing costs by reducing the likelihood of employee turnover
One survey conducted by the Society for Human Resource Management (SHRM) found that 16 percent of employers with drug testing programs experienced decreased employee turnover rates.  This makes sense because employees who abuse drugs are more likely to take several unexcused absences, be late for work or worse, be injured, or injure themselves or another employee.  This then leads to compensation claims, and eventually, termination within one year of their employment.
Drug testing can promote a safer working environment
This is probably one of the most critical advantages of workplace drug testing.  Employees with drug problems automatically pose potential safety issues not just to themselves but also to their coworkers.  This is a big deal, especially with safety-sensitive jobs like operating heavy machinery, dealing with chemicals, or driving company vehicles.  With drug testing, employers ensure that any workplace accident risk is reduced to zero as much as possible.
Overall, drug testing can help deter your current and future employees of illegal drug use and ensures that you avoid drug-induced work-related accidents and possible theft.  Employers have a variety of options for drug testing methods they can use.  
Here are two of the most common drug testing methods, their advantages, disadvantages, how they differ from one another, and which is the best choice for your needs:
Urine Drug Test
One of the most common, simple, and least expensive screening methods, a urine drug test is easily administered,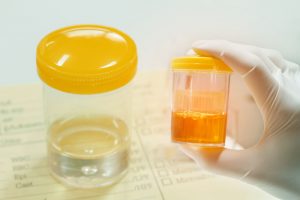 whether at home or work.  Standard urine drug test kits can detect drug and alcohol use within 1 to 2 weeks.
This testing method was known to have many weaknesses and loopholes, and they're easier to tamper with.  Fortunately, this was a problem in the past.  Now, corporate drug testing companies offer FDA approved urine drug testing kits that deliver accelerated and more accurate results as fast as 1-2 minutes.  This method can also test up to 14 drugs from a single urine sample.
It can detect drug classes such as amphetamines, Cocaine metabolite, Marijuana Metabolites, Opiates, Phencyclidine, etc. , and the results are readable for up to 60 minutes.  It may detect casual drug use within the previous 72 hours from conducting the test.  
This testing method is often used for pre-employment screening, random testing, or post-accident testing. Still, if the employer wants to examine a candidate or an employee's long term drug use, this test may not be the best option because of its short detection window.
Testing is performed at SAMHSA – certified labs, removing the weaknesses and loopholes commonly associated with urine drug tests.  Investing in urine drug testing in Melbourne fl provides you the  trust you need to help ensure that you receive streamlined results from an on-site collection process. 
Hair Drug Test
Also known as hair follicle drug testing, hair drug testing is more expensive than a urine drug test, but it is more convenient and precise.  It can detect a long history of drug intake. Hair drug test kits administered by leading corporate drug testing companies can even detect 90 days of drug use for the five most commonly abused group of illegal drugs
Because of this larger detection window, it is easier to spot evidence of pattern-based drug use.  Unlike other detection methods, hair samples are less likely to be degraded or manipulated, and again compared with other testing methods, hair testing can also detect more substances.
This testing method is the most ideal for employers who want to look at the long-term drug use of a current or future employee, giving them insight into how often a person uses drugs.  This method is more preferred as part of a pre-employment screening process or a random drug screening. 
Conclusion
By now, you may already have a better understanding of what testing method best suits you and your company.  Whatever method you decide on, keep in mind that it should fit your testing goals, how quickly you need the results, and naturally your budget.
In summary, hair drug testing is ideal for learning about an individual's drug history over the past three months.  On the other hand, urine drug testing is best for finding out if drugs have played a role in a recent workplace accident or incident.
Ultimately, when you invest in a drug testing method in Melbourne fl that you can rely on, you automatically lower the likelihood of workers' compensation claims and insurance claim expenses brought about by employees' drug use. 
Above all, drug testing your employees not only helps you maintain compliance.  It also ensures the safety and productivity of your workplace.  The drug test results make employers capable of taking the appropriate steps and courses of action to help them maintain a drug-free workplace.